Today, our friend Yoshi came to visit us from Tokyo, and the three of us took the train to Iwakura, a small town north of Nagoya, to see the cherry blossom festival.
There were beautiful sakura all up and down the Gojo River.
Teddy and Yoshi on one of the many bridges.
Me and Yoshi down by the river.
A cool paper decoration.
There were stage performances all afternoon.
Cute ducks on the river.
I got to try a delicious croissant taiyaki!
One of the big highlights of the festival was the washing of the town koinobori, or carp streamers. Here they are scraping off scum with a knife.
Lifting the banner out of the water.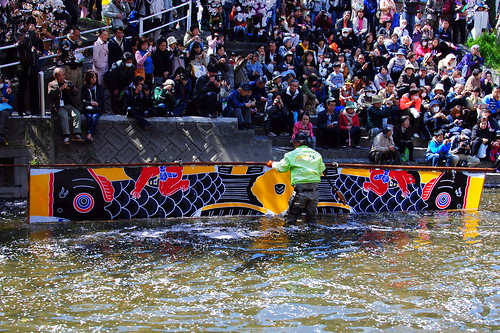 A HUGE banner.
Flipping over one of the koinobori.
After cleaning, the festival members held up the banners for everyone to see.
After the banner washing, we went in search of the festival floats. First, we looked at the shrine.
Another spot at the shrine.
There were three festival floats. Here is one.
Here is the second one.
One of the mechanical puppets on the second float.
Detail on float number three.
The final float.
Here is the manhole cover of Iwakura!
Well, that is all for the festival. There will probably be no pictures for tomorrow – I am entering a singing contest, and so my day will be spent hanging out, practicing, and participating in the contest! Wish me luck! 🙂